Tubular Level Gauges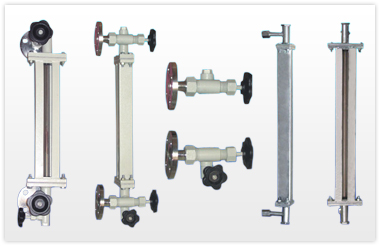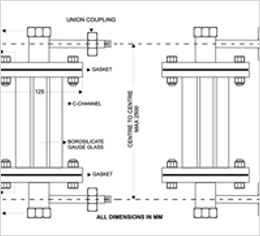 Utilising the basic principle of - liquids find their level - tubular level gauges have been the most preferred and economical means of direct liquid level indication since time immemorial. Various means of glass tube protections- 3 plate glass protection, 3 guard rods, pipe guard or C-channel protections are in popular use. Our level gauges have C-channel protection of 2 mm thick sheet metal, making it robust and sturdy.
A black powder coated aluminium engraved scale with white numerals & markings is provided for indication of the level of liquid in millimeter or Litres as required. Scale shall have minimum graduation of 5 mm.
Process connections can be threaded or flanged to customer specifications. Isolating cock valves/needle valves or isolating needle valves with safety ball-check protection to prevent spilling/leakage by automatic shut-off in the event of glass tube breakage- are optional features
Technical Specification
Process Connection
Threaded or Flanged
Connection Size
1/2" or 3/4" BSP(M) or Flanged to 3/4" or 1" ASA 150 Lbs as standard (Please specify other connections ,if required)
End Connection MOC (Wetted Parts)
Mild Steel Grey powder coated / Chromium plated MS / SS 304 / SS316 / PVC/ FRP
Gauge Glass
19 mm H/W borosilicate glass tube.
Glass Tube Protection
C-Channel of Grey powder coated or Chromium plated MS / SS304 / FRP Or SS316. (Size: 45x65x2mm)
Flange Gaskets
CAF-Acid alkali style 60
Scale
Black powder coated aluminium with white numerals & markings.
Vent& Drain Plugs
1/2"BSP(M)
Bolts & Nuts
HT bolts & nuts/SS 304
Maximum working pressure-10 kg/sq.cm (depends on length)
Maximum working temperature-100 deg C (Maximum length in single piece-2500 mm)
Optional Acceessories :
Vent Cock Valve/Drain Cock/Vent & Drain Needle/Ball Valves
Gauge Isolating Needle Valves.
Gauge isolator valve: SS 304/316 solid barstock needle valve,offset type with safety ball-check protection and process connection as above (please specify).