Electronic Control Units
Electronic control unit in conjunction with level switches can be used for pump control, opening and closing of electrically operated valves, heaters and or high and low level indication.
The electronic unit Model LC1 FL reduces the voltage and converts it to 5 VDC for operation of reedswitches enhancing their life, above all ensuring operational safety. The LED's in the front panel indicates Main Power Supply On, Pump Start and Stop conditions. The start/stop push buttons in the front panel enables testing of the control unit and also manual start and stop. The control unit has a Change over potential free relay output contact-hold on type. Contact change over takes place between High and Low level only. Relay contacts are rated 5 Amps at 230 VAC. Control action can be reversed at site by changing connections from NC to NO.
For certain applications where high and low level indications are required, 2 separate relay output contacts are provided in the control unit-with LED indications for High, Low and Mains on
Model LC2FL are used in boilers where High and Low Level Contacts are used for Pump start & stop while Very Low Level Contact is used for heater cut off.
Technical Specification
Model No : LC1FL :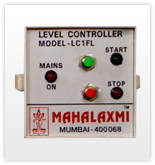 | | |
| --- | --- |
| Overall Dimension | 72 x 72 x 110mm |
| Mounting | Flush Panel |
| Panel Cutout | 69 x 69 |
| Mains Power Supply | 230 VAC / 24 VDC |
| Input Signal | Float Switch Contacts |
| Output | 1 Potential Free c/o contact (Latching) |
| Contact rating | 5 A at 230 VAC Res. |
| LED Indication | Mains On, Start, Stop |
| Push Button | Start, Stop |
| Optional | For High & Low Level Two Separate Relays shall be provided without push buttons. |
Model No : LC2FL :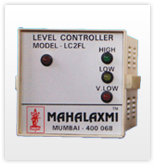 | | |
| --- | --- |
| Overall Dimension | 72 x 72 x 110mm |
| Mounting | Flush Panel |
| Panel Cutout | 69 x 69 |
| Mains Power Supply | 230 VAC / 24 VDC |
| Input Signal | Float Switch Contacts |
| Output | 1 Latching c/o contact between High & Low, 1 c/o for V. Low Level. |
| Contact rating | 5 A at 230 VAC Res. |
| LED Indication | Mains On, High, Low, Very Low |
Model No : MLC-03 :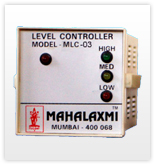 | | |
| --- | --- |
| Overall Dimension | 96 x 96 x 65mm |
| Mounting | Flush Panel |
| Panel Cutout | 94x94 |
| Mains Power Supply | 230 VAC / 24 VDC |
| Input Signal | Float Switch Contacts |
| Output | 3 Potential free Changeover Relays with latching contacts |
| Contact rating | 5 A at 230 VAC Res. |
| LED Indication | Mains On, High, Medium & Low |